If you are new to command line tasks or just simply can't figure out how to open the command prompt in Windows 7 you will find it is as simple as navigating the Start Menu

There are a few ways to navigate the Start Menu. One way is to use its built in search, another is to navigate its menus and one final way is to use the run dialog. I will attempt to show you both ways in this post.
Navigate the menus
Open the Start Menu
Click on "All Programs"
Click on "Accessories"
Click on "Command Prompt"
Start Menu Search
Click on the Start Menu
Click inside the text box that reads "Search programs and files"
Type command (as you are typing you should see a list of items appearing above)
Click on "Command Prompt" in the list
Run Dialog
There are few ways to show the Run dialog. I am going to only show you one way as it is the most common way for me to use it.
Hold down the windows key while pressing "r"

The Run dialog should appear.

Type cmd
Press "Enter" or Click "OK"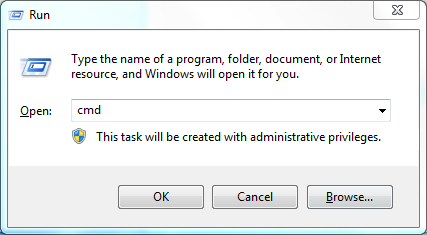 Performing any of these steps should yield a screen that looks similar to this one…